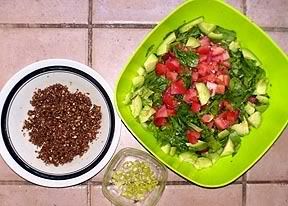 large bowl: romaine, spinach, chopped tomato, avocado
round bowl: raw taco mixture, small bowl: chopped banana peppers
Ok, I am seriously becoming addicted to putting together amazing meals, and even more addicted to the stunning (and stunned) reactions I get from my partner. Stunning, because the recipes I'm preparing these days are just heavenly, and stunned, because before I went raw, I hated all things cooking related, and he did all our cooking. But un-cooking, look out.

(I am getting some serious hugs these days!) ;)

Anyhow, I found this recipe today on a great site called
Gone Raw
. This one caught my eye because my partner loves Taco Salads and what can be done cooked can be done even better raw, so I thought I'd go for it. Here's the
recipe
.
Note: To suit our tastes, I sprinkled some pepper flakes and natural, organic Southwestern seasoning called 'Los Chilaros' to add more heat

El-Yummo!