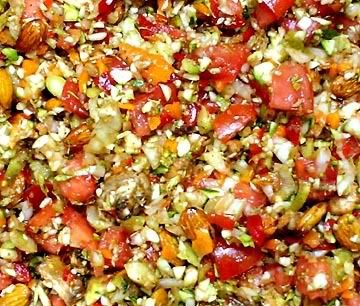 Wow! Wow! Wow! What a wonderful recipe! Your mouth will come alive...as alive as the foods you're eating! My uncooking weekend adventure continues...

Note: where the recipe says
I used:
zucchini

banana peppers



Pepper Pot is an American Indian dish that originated in Guyana, where it is a national dish. It is also eaten in Antigua. This version is a very loose one.
Ingredients

1 cup whole almonds or other nuts/seeds
2 tablespoons vegetable oil
1 fresh hot chili pepper, seeded (adjust amount according to how hot you like your food)
or
1 tablespoon cayenne pepper (adjust according to your taste)
1-2 tablespoons dried thyme (taste as you add on)
2 tablespoons lemon juice
salt and pepper to taste
Mix all ingredients together. Serve at room temperature or warmed by the dehydrator.


I have been eating this stuff all day! My boyfriend didn't make 'THE FACE' when he ate it, so I asked, "What's wrong?"

He couldn't put his finger on it, but it wasn't there for him.


I think it's there and back so I grilled him (haha) and I'm sure he just wanted me to go away so he said,

"Well, what are the spices?"


So I named them and he said, "That's it. Too much thyme."



Whatever!


I'm eating it like it's candy!!


For dinner, I loaded my plate up with green leafies, avocado, tomato, sour cream, and pepper pot and I enjoyed the HELL out of it!! :D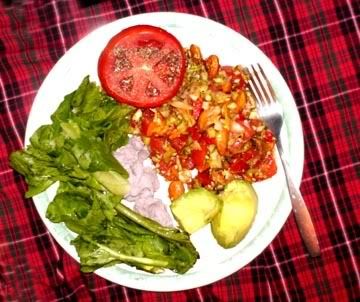 Yep, that's sour cream on there, that pink stuff! That's not just the photo, that's the actual color.

But theirs isn't pink, wtf?