Yay! I have spent this fine Saturday afternoon whippin' up all sorts of yummies in my kitchen! This, from a confirmed NON-cook. My boyfriend is in shock, I tell ya. But he's lovin' the trend.

He's been telling everyone that he's been eating the best meals he's ever had in his life! WOW, that's deep stuff.

I should back up a bit, to last night... I made this recipe called 'eggless egg salad'. The clove of garlic I used was freakishly huge, and this came out tasting 'hotter' than intended but MAN does it make a terrific dip/sauce. I dipped slices of zucchini & green pepper in it last night, and so did my company, to rave reviews.

Okay, back to today... I made some of last week's chili again because I haven't been able to stop thinking about how dang tasty it was.
So my boyfriend makes a sandwich for lunch today, using sprouted grain bread, and filling it with sliced avocado, the eggless egg salad "dip" and some of the chili. He was moaning and closing his eyes, and I've known him long enough now to know that's a good sign. haha!

Thennnnnn.... it was fajita time! And as I type this, my nuts are soaking (ahem) so that in an hour, I can make 'The Best Sour Cream in the World'. (It seriously IS.)

You'd think I was expecting more company, but really, I'm just happily amusing myself as I prepare this evening's meal. Did I mention I used to hate cooking? What's happening to meeeee?

Oh, geez, I almost forgot... I also made a batch of 'marinated broccoli' to eat tomorrow. It's got to sit in the fridge overnight. I've gone mad. Mad, I tell you. (And I couldn't be happier.)

I can't, for the life of me, recall where I got the recipe from, so I'll repost it here... if it's yours, please claim it, with my apologies!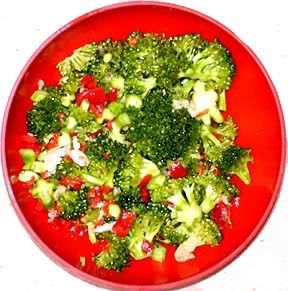 Marinated Broccoli
Ingredients:
3 tbsp extra virgin olive oil
2 tbsp water
1 large clove garlic, minced
2 tbsp wine vinegar
1/8 teaspoon black pepper
1 tbsp lemon juice
1 teaspoon sea salt
2 cups broccoli florets
2 tbsp red bell pepper, minced

Directions:
Mix the oil with the water, garlic, vinegar, black pepper, lemon juice, and salt. In a large salad bowl with a tight-fitting lid, toss the oil mixture with the broccoli and red peppers. Refrigerate and let marinate all day or overnight, tossing the mixture several times before eating.