What a riot! This is our 2nd camping weekend away since we returned from our 3-week camping roadtrip from Vancouver to Ontario in late July. We loaded the cooler with a tub of salad, 3 tubs of various wrap fillings that I'd made and frozen this past week, some avocados, sprouted grain tortillas and bread, some fruit, 2 large jars of Green Smoothies, a bunch of water, and returned to the gorgeous spot we found a couple weeks ago.

We set up a large tarp in the trees, knowing it was to be a rainy weekend.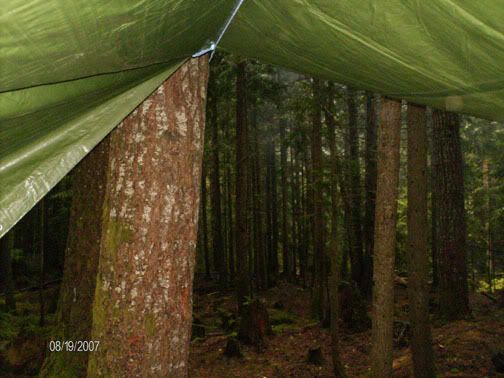 Ah, I just love this...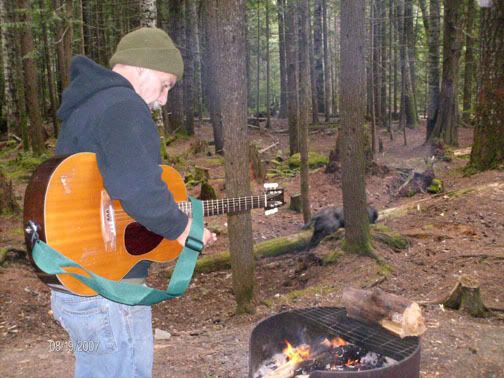 One morning our fellow camper came up to our site, holding out her swollen, mystery-bug-bitten hand and asked if we had any antihistamine. I didn't, and in that moment, I realized that even though I don't use 'medicine' per se, I should be taking these camping trips with more in my bag than ecchinacea. So, I offered her what I did have, aloe vera juice (it's more like a clear gel) and she rubbed it on and off she went. I saw her later and it had taken much of the itch and burn out of it. But the incident made me think that it would be smart to stock up on a natural medicine bag...lessee...some arnica, some tea tree oil... what else? (Tell me?)
This is my favorite spot in all the world:
Enjoying a green smoothie
(that thing weighed a ton!)
My Darlin' enjoying his own version of a health nut breakfast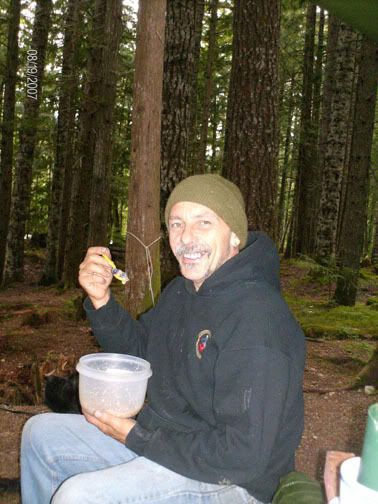 Gracie enjoying yet another version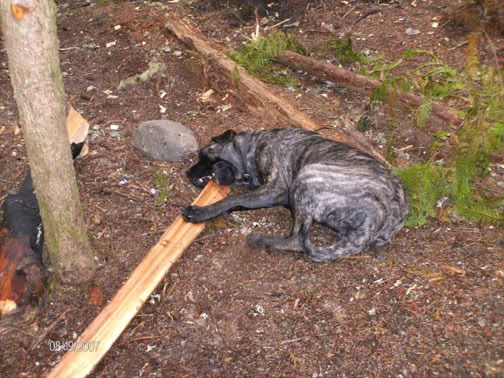 My progress report shot (taken August 19, 2007, 3 months to the day since I quit drinking, and since I started back on the raw food lifestyle.)

~
I've lost 40 lbs
!!! ~