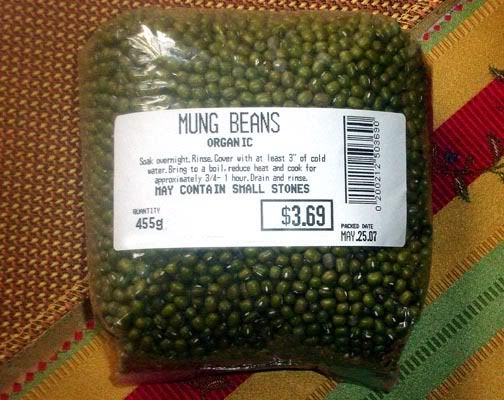 Wasn't crazy about the 'MAY CONTAIN SMALL STONES part!
Well...I've put money in dumber places than Mung Beans. And for $3.69, the party was ON!

I've heard of them, and I'm sure I've had them in cooked soup or something, but I didn't recognize these pretty little green circles in the bag at all. So I bought 'em. It says on the sticker to soak them overnight, so that's what I'm going to do. If they are big styrofoam dinosaurs in the morning, I'm gonna re-think this thing.

I've only heard them called bean sprouts all my life, never 'mung'. Hm.

I hear my village calling in the distance...I'm sorry, you're missing ... what?



These aren't just soaked over night...these are past that, these have sprouted. (The light is comin' on, Folks!)