So I've been having fun eating raw... last week, we had a backyard party and our neighbours gifted us with the most thoughtful, amazing, straw bag filled to capacity with fresh, local, farmer's market produce. It was divine!!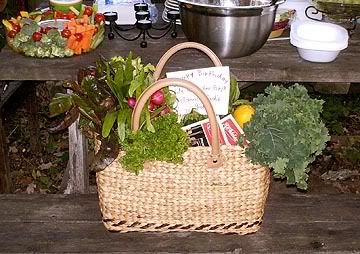 We felt so blessed and abundant and ate like raw royalty all week!! ;) It's all gone because we fixed everything into glorious salads and sides every day. (The packages you see are guitar strings for Steve! They really put thought into who we are and we so appreciate it!)
The timing of this bounty just couldn't have been better, as both Steve and I have sworn off sweets for the time being (sweets meaning raw treats using organic sweet cane or agave nectar or any cheats like Green & Black's chocolate bars...r.i.p.) We were both feeling the need to treat our bodies gently, since he has been going through a round of detox and I made my discovery about taking sugar out of the healing equation from seeing first hand the resurgence of the dreaded spider bite itch. So we've been eatin' clean as we call it, sticking to fruit, green smoothies, salads, hemp seeds, homemade flax crackers, avocados on sprouted grain bread, to name a few. (I understand that fruit is sweet, but one thing at a time!)
A surprising off-shoot of burning this kind of fuel is that it has made my morning coffee (I know, I know) make me feel nauseous! I think this is such great news because I would like to remove it from my life. I make the strongest coffee anyone's ever had, and I'm sure it is not doing me any good. Like all things in my way of vibrant, glowing health, it must go. This is a process, not an event, and all things in their time. This week has been the beginning of wrapping my head around it...but it doesn't feel like it's going to be today. (she said, sipping her morning coffee as she writes.)
In other news, my weight loss is steady and sure, and shopping for clothes is fun again! I am finding that my style is changing...not that I had one...I was more into hiding, strategic enhancing, and camouflaging before; giant sweaters that didn't cling to rolls, etc. Now, though, I'm looking at dresses and skirts and tee-shirts and blouses I can tuck in if I want to... And under-things! Look out, Baby!! :D Good times, good times... ;)
Rawk on!!