Hey Rawkers!
Ok. So for the next few weeks, I'm living on the gorgeous island of Maui, Hawaii. I've been here since late October, and I will be here until December 19th. Paradise! It's "winter" here so it's slightly cooler than when I was here in April, but it's still flip-flops and sundresses weather, so I'm happy.
There's no way I could ever stay this length of time if it weren't for my gracious hosts putting me up (or is that putting up with me? lol) I am over here jamming (I sing) with an excellent, original rock & blues band, and I'm staying in the other vocalist's home, along with the bass player. We get together a couple times per week and jam anywhere from 4-6 hours, and the time flies. These songs are so beautiful and fun and rockin'!

this is at the home studio where the band rehearses ... pure heaven

These are some good people! One of the band members, the drummer, is a clean-livin', smoothie-swillin', mostly-raw foodist, so we have much to discuss and really enjoy hanging out. I feel I can learn a lot from this guy, as he is very spiritual and has had some big life experiences to draw from. He is married to a beautiful woman who had me at Hello. You know when you just click? Both these people do that for me. Anyway, he took me to
Mana Foods
in Paia on Friday, and said he'll take me again, as he goes a couple times a week. Mana Foods is a health food paradise. I couldn't wait to return to it ever since I discovered it back in April. Paia in general is a wonderful hippy town, I just love spending time there.
I'm having a lot of fun hookin' up another band member, the singer/guitarist, with raw foods. He has been a surfer and all around athlete all his life and has dipped into a bit of a 'convenience foods' habit and wants to tune it all up again, so he's feeling ready for a change. I told him I'd help in any way I can, so the other day, I picked up a food processor at the Maui Costco (who knew?) I went 'home' and made the raw vegan brownies (of course.) Well, I wish I had recorded his reaction upon tasting them, it was over the top positive; he was so cute! I am so happy to report that on the strength of those brownies, he is SOLD on raw and want to try more. :)
So today, I went to Napili Market (and paid way too much) for ingredients to make a strawberry swirl shortcake and yep...another pan of dem brownies. (There was much dismay upon discovering we ate them all!)
I also picked up the ingredients for zugetti with marinara. This was after much consideration, as I was going through all the recipes on this blog and wanted whatever I made to grab him like the brownies did. Ok, well, maybe nothing else quite has that grip, lol, but something really tasty and really simple. Simple is good right now, cuz all I'm working with here is a food processor, and when I told him I could make him a meal using only that, he was so surprised and couldn't wait. So I had this feeling that it'd better be good. First I thought dips like eggless egg salad and hummous...but didn't have dehydrated crackers, and Napili Market didn't have Ezekiel tortillas (always my next best). So I settled on the marinara.
I used a vegetable peeler to peel two large zucchinis and I plated the noodles onto a bed of spinach, and topped it with marinara. I sliced avocado as garnish and WALLA! Dinner!
I should have learned from his reaction to the brownies, to record any forthcoming reaction, because man, this dude is so satisfying to uncook for!! He's soooo excited and turned on by this way of eating! The marinara, and his reaction, did not disappoint!! :) I didn't get a photo of the dinner, and gawd knows you've all seen the brownies, so here is the Strawberry Swirl Cheesecake...which looks completely different than when I first tried it. I really have to look closely at this recipe, and re-read it a lot to understand where it's taking me, and I think last time, I skimmed it instead, 'cuz I ended up putting the topping in the filling, lol. See how different it looked? (Same great taste, though! Haha!) It's the second photo down once the link takes you to the
Desserts
page.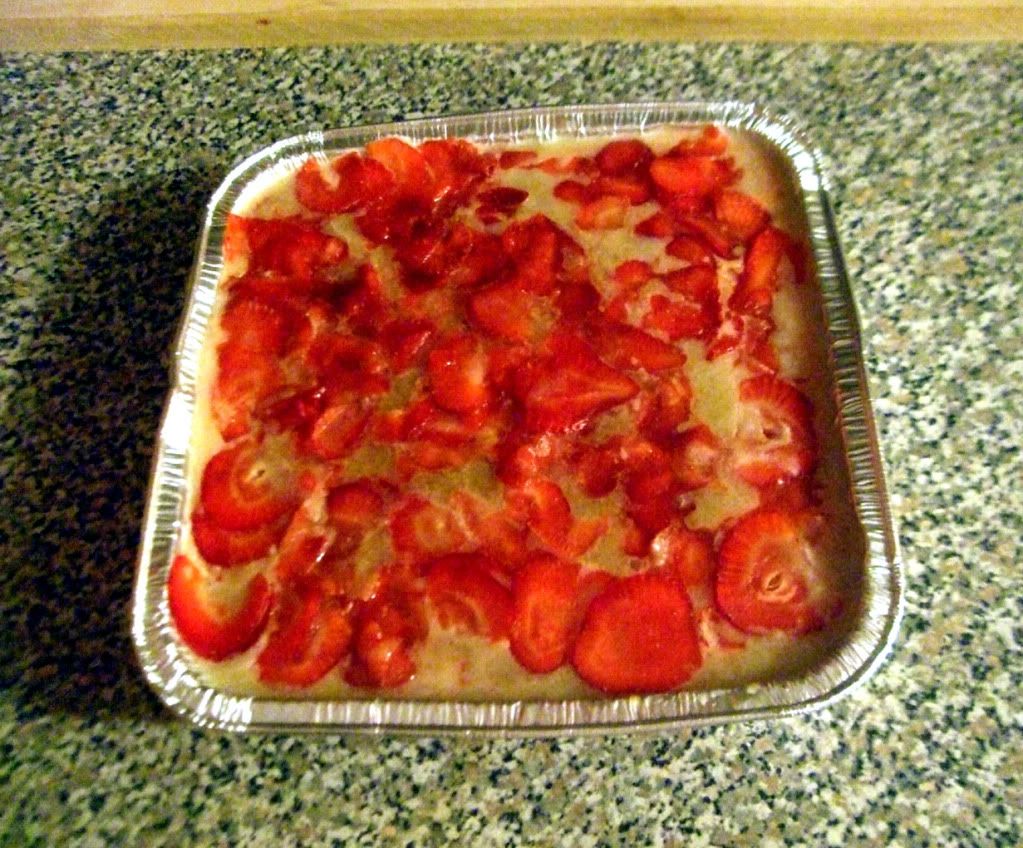 He's eating some of this as I type this. The bass player can't get enough of these AND the brownies. Everybody's rawkin' and ravin' around here; it is WONDERFUL to be turnin' these guys onto this lifestyle. It's so good for me, too, as I find it inspiring for myself, as well.
PS: Check out this mutant avocado that was on the dining table today!!!
Yay,
xo
Rawkin'